Review This UMPC has been specifically designed for use in in the field - conditions where you'd never normally take a laptop. So if you're an engineer, an architect - or perhaps a sniper - this PC's for you.
The Getac E100 meets military and ruggedisation standards MIL-STD-810F and IP54, which basically means it's resistant to dust, water spray, humidity, shock and vibration, and can operate in temperatures from -20°C to 60°C. This device even has an optional hard disk heater just in case it's going to be booted up at temperatures below 4.4°C.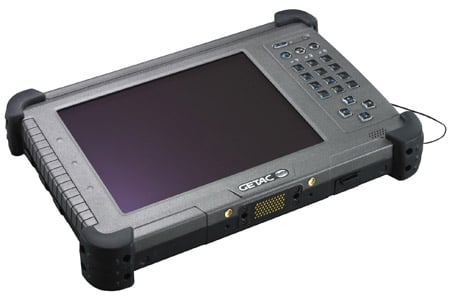 Getac's E100: practically bullet-proof
Being housed in a solid magnesium alloy chassis with big rubber bits all over it, it feels practically bullet-proof, but then that's the point.
When handling the tablet it does seem heavy, but in actual fact weighs in at a pretty respectable 1.4kg, making it the lightest in its albeit limited class. Including the thick rubber corners, the E100 is 40mm deep and measures 290 x 195mm, making it slightly smaller than an A4 sheet of paper.
Almost all ports have their own protective rubber plugs that can easily be replaced should they get damaged or split from too much use. Although the seals help protect the vulnerable ports, we've a word of warning: the USB slots are deeply recessed, so you may need an extension cable to connect some devices.
Under the armour, you'll find an Intel A110 processor, the Atom's predecessor, clocked at 800MHz; 1GB of RAM; an 80 or 100GB shock-resistant parallel ATA hard drive - bizarrely, there appears to be no solid-state drive option - and an Intel 945GU chipset, which borrows up to 128MB of the system memory for its integrated graphics engine.
The specs aren't exactly awe-inspiring, but bearing in mind its intended function and the fact that it not only has no fans, but no vents either, it should be enough grunt for most peoples needs out on site or in the field.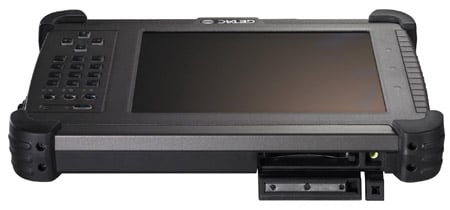 Not exactly awe-inspiring specs
Communications are provided by a Gigabit Ethernet port, 802.11b/g Wi-Fi and Bluetooth 2.0+EDR. GPS is optional and so is cellular network connectivity - you can add a GSM/GPRS/Edge/3G/HSDPA card if you wish. Both options have internal antennae, as well as pass-through ports if you need more signal.
The E100's display is a 8.4in scratch-resistant touchscreen, which operates at a resolution of 800 x 600. Although this means that things on the screen are of a decent size and easy to manipulate with the stylus, because many web sites and applications are optimised for 1024 x 768, you may find yourself scrolling from side to side as well as up and down.
Where the screen really does shine, quite literally, is outdoors. The biggest failing of just about every notebook screen around is that it's practically unreadable in sunlight. The E100, however, is bright and easily readable, even in the glare of full sunshine. It also packs in a light sensor to automatically adjust the brightness depending on ambient light levels.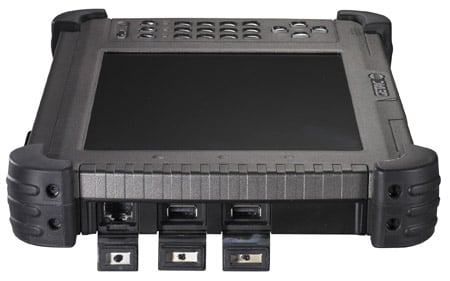 The USB slots are deeply recessed, so a USB extension cable might be needed
The E100 runs Windows XP Tablet PC Edition, so be used almost entirely through the touchscreen. However, there's a small keypad on the right-hand side and a stylus that slots into the side and which, thanks to a bit of stretchable cord, won't disappear in a hurry.
The screen is pretty responsive, but it lacks the ability to notice a hand resting on it and ignore that input, something many other modern touchscreen devices don't seem to have a difficulty doing. This isn't a problem for general usage but can cause problems when you're trying to take notes in, say, Windows Journal.
Although usinh the E-100 is generally intuitive, if you're not used to using a tablet PC then you'll probably take a little while to get the hang of actions like the right-click and using the virtual keyboard. The keys are all soft rubber and well spaced, meaning grip and using them with gloves on shouldn't be a problem.
Most of the keys have a second function, activated by the 'Fn' button. The '1' key toggles the touchscreen on and off; '2' performs a right-click; '4' cycles the screen brightness between manual, full and automatic; '7' rotates the display; '8' toggles the keypad backlight; '0' doubles as the Esc key; Del performs a 'Ctrl-Alt-Del'; and the navpad adjusts screen brightness and volume.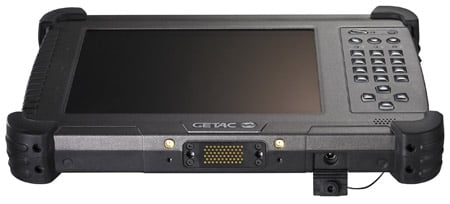 Almost all ports have their own protective hinged rubber plugs
Another word of warning here: the icons that show each key's alternative function are incredibly small, so you'll probably want to spend some time learning where they are by heart rather than squinting at the keys every time you want to do something.
It's a small gripe, but we can't help but think the addition of a 'Windows' key wouldn't have gone amiss too, thereby allowing users to navigate through the Start menu without having to use the touchscreen.
There is a Menu key, which brings up a list of the basic activities, including launching one of five pre-set applications. These default to Internet Explorer, Outlook, touchscreen calibration, Bluetooth setup and the virtual keyboard, but can configured to run any program.
Running a burn-in test with the Wi-Fi on and the screen brightness on automatic (indoor conditions) we got 2 hours, 53 minutes of life out of the battery. In general use you can typically expect around four hours of use, but this can drop if the screen brightness is cranked up to the maximum. The battery is replaceable, but the cover is screwed in to place in order to remain tightly sealed.
Because the screen resolution won't hit 1024 x 768, we couldn't get a video score on PCMark05. But an averaging the scores from three runs we got the following results:
PCMark05 Results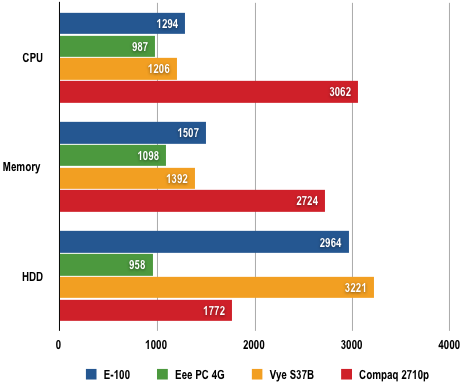 Longer bars are better
While we weren't expecting miracles from the integrated graphics engine, we were expecting a little more than a paltry score of 72 in 3DMark06. This implies that any kind of rendering program is going to have a tough time on the E100.
All this durability and power doesn't come cheap. According to Getac the E100 starts at around £1500. By today's notebook standards, that's pretty pricey, but if you have need for a device like this, you'll probably be willing to pay for the protection its rugged build offers.


Verdict
The Getac E100 is a solid piece of kit yet is light enough to carry around in the crook of your arm for a few hours without requiring Olympian strength. It can run most of today's applications without stressing too much, but it's no powerhouse. The screen is amazing for use outdoors and the plethora of connectivity options keep it online almost anywhere.
If you're just looking for a laptop that'll survive being tossed around, you might consider one of GETAC's rugged notebooks or a Panasonic Toughbook for example. But if you're in the market for a device you can use on site, which can withstand some pretty big bumps and knocks, and will happily boot up in the Antarctic, Amazon or Sahara, then it's certainly worth exploring what the Getac has to offer.